 
Simplex+ Wireless Headphone Pack
SIMPLY UNRIVALLED WITH WIRELESS HEADPHONES
THE FIRST WATERPROOF DETECTOR with Wireless Headphone Pack ON THE MARKET OFFERING EXTREME DEPTH AND HIGH-END FEATURES AT AN ENTRY-LEVEL PRICE!
SIMPLE ENOUGH FOR BEGINNERS, YET IMPRESSIVE ENOUGH FOR EXPERTS!
Are you new to metal detecting and simply need an easy to use detector?
You cannot afford a high-end detector but you simply want extreme depth and basic features of a high-end device?
Need a waterproof detector at an affordable price?
If you said yes to one of the above, SIMPLEX+ is the sole choice that covers it all. We are proud to offer our first entry level detector, the SIMPLEX+, which makes quality metal detecting available and affordable for all users.
SIMPLEX+ is a turn-on & go detector with auto ground balancing! It boasts preset search modes, including a beach mode, in a very easy-to-use, single menu design.
Whether you are searching for coins, artifacts or jewelry on land or underwater, SIMPLEX+ is the most cost-effective yet durable detector featuring a modern and lightweight style.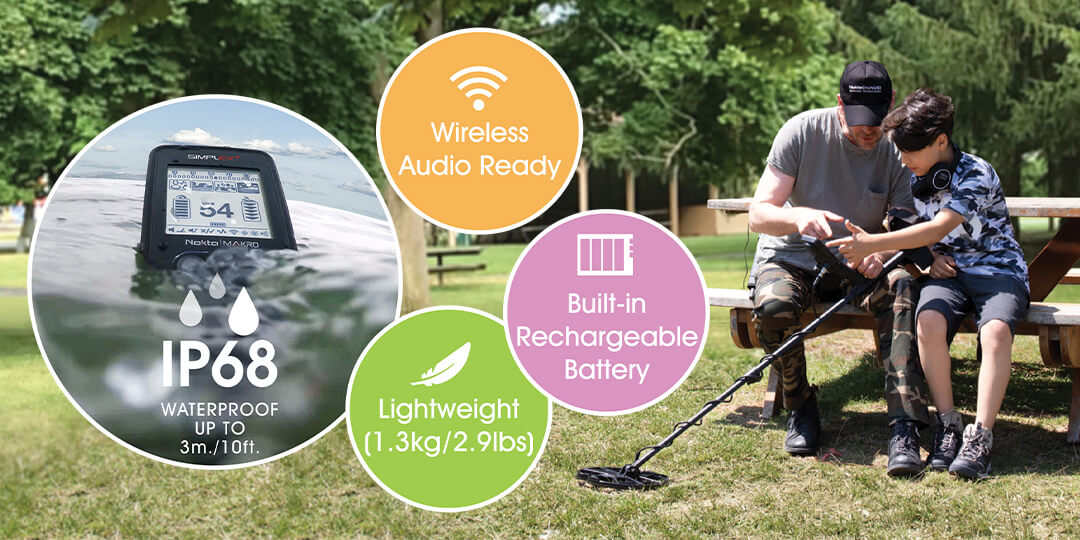 IP68
Fully submersible up to 3 meters (10 ft) and protected from total dust ingress.
Iron Volume


Turns off or adjusts the volume of the low iron tone.
Notch Discrimination


Discriminates Target IDs of unwanted metals.
Search Modes


All Metal / Field / Park / Beach
Package Contents
1 - System Box
2 - Waterproof DD Search Coil 28cm / 11" (SP28) & Cover
3 - USB Charging & Data Cable
4 - 6.3mm (1/4") Headphone Adapter - SIMPLEX+ Only
5 - Simplex Cap - SIMPLEX+ WHP Only
6 - 2.4 GHz Wireless Headphones Green Edition - SIMPLEX+ WHP Only
7 - User Manual & Warranty Certificate